LISTEN TO THE ENTIRE ALBUM BELOW
OUT NOW ON HELLS HEADBANGERS: Available on traditional black vinyl and 'cosmic' splatter vinyl. Comes in a glossy Gatefold cover with silver print, black flood print inside of the actual pockets and the records in poly-lined black inner sleeves. Also includes a lyrics insert. The colored vinyl & black vinyl each have different center labels on the records (see images below).

One of the most widely respected names in the international metal underground, Greece's ZEMIAL make their long-awaited return to the full-length front with the vast 'n' visual NYKTA. Seven years on from their last album, 2006's towering In Monumentum, ZEMIAL's highly anticipated NYKTA stylistically ranges the band's entire, 25-year history but with bold, new strokes entirely fitting with the band's ever-evolving lyricism. From gritty blackthrash to epic heavy metal, from art-music experimentation to moments of prog-inflected psychedelia, from soundscape ambience to realms completely uncategorizable and many mesmerizing points in between, NYKTA displays ZEMIAL in all their austere, multihued glory: masters of storytelling songcraft and adventurous instrumental acumen, honoring tradition whilst defying boundaries all the same, their theatrical sweeps of sound ably transporting the listener across space and time, to the very ends of the cosmos and back. And while they may have began in the darkest, earliest days of black metal, ZEMIAL have effortlessly developed into a many-tentacled force of magick and dynamism; their sound now can only be accurately described as "ZEMIAL." Intentionally scheduled for release on October 31st - a time considered as the beginning of the long night, a time during which the walls that separate the worlds are thin and the Seven Sisters hang directly overhead - ZEMIAL's NYKTA is a journey like no other, wild and winding to the very end and warmly draped in authentically analog production. Many will embark upon its path...but where will you end up?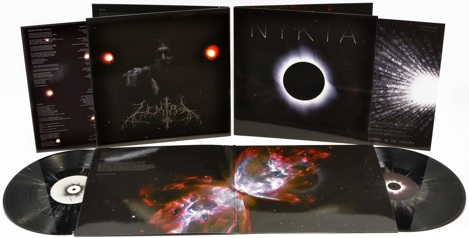 "Unlike anything I?ve ever heard before. I highly recommend it to fans of black, thrash, death...fuck, it doesn?t matter which extreme metal limb you prefer to gnaw at - just listen to it" - Destructive-Music.com [10/10 rating]

"With their third album, Zemial have mastered the evolution embarked upon with their sophomore effort. Yet, it?d be criminal to compare them directly, as NYKTA is more varied, experimental, accomplished, and ultimately, the better album - perhaps even their greatest output to date. Retaining that Hellenic sound, at times not unlike compatriots VARATHRON, Archon has achieved the ideal balance of various foreign genre elements ? be it HM or blackthrash, Greek folk injected into CELTIC FROST, or DESTROYER666 within the realms of horror - conflicting components are turned into a flawlessly fluid, truly fresh and thrilling whole. It?s a trip not devoid of danger and surprise, as patiently crafted songwriting captivates and gives way to electric synth attacks, acoustic passages (instrumental 'The Small?: soul-crushingly beautiful), all perfectly united under the Zemial banner. The demented 15-minute preview track 'Pharos? is a suiting exemplar of the lunatic depths NYKTA dives into. Album of the year thus far" -

Zero Tolerance [5.5/6 rating, "Release of the Issue"]

"Many tried to put a label on Zemial's music, and many failed. Because the truth is, Zemial have managed to create their very own and unique style, by melting together early black metal, thrash metal, epic and heavy metal, with elements of avant-garde and psychedelic rock. So basically, there is no other band around that sounds like Zemial, and at the same time, we can't say that Zemial sounds like any other band. Surely, it's not an accident, that their new album, Nykta, will have its premiere on October 31 - it brings even more mysticism to this already dark and epic piece of art. Yes, art, because calling Nykta a regular metal album wouldn't be very fair. It's really interesting how typical metal parts, with double-bass drumming, sizzling riffs, and thrashing vocals got mixed with almost progressive patterns and elements, or instrumental parts that sound like they were taken from some Italian horror movie from the '70s...HELLHAMMER and POSSESSED meets PINK FLOYD and GOBLIN? Yes, it could be nice comparison. But it won't be, as Zemial is still Zemial: the one and only" -

Voicesfromthedarkside.de