LISTEN TO THE ENTIRE ALBUM BELOW!
OUT NOW ON HHR: Comes comes with a booklet featuring all lyrics.
Attention headbanger, WITCHTRAP are back with their 3rd full-length studio album of dirty heavy thrash Black Rock 'N Roll! Six years have passed since the last megawatt devastation "No Anesthesia," too much time for sure! "Vengeance Is My Name" is a continuation of where they left off and is sure to rock ya 'til you bleed!!!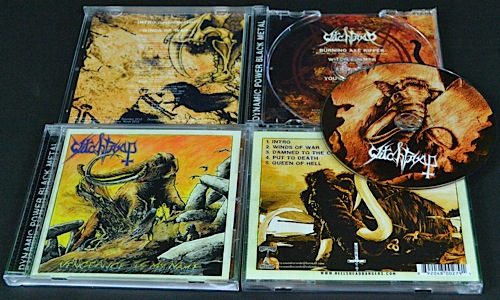 "One of those records that truly grows on you... It is wonderfully naive in its lyrical approach and earnestness - every word is indisputable law. Musicianship and songwriting also are catchy-as-hell... keeping the record at terminal velocity from start to finish. Conclusion: an excellent record, and another South American success-story" - Zero Tolerance [4.5/6 rating]
"An early candidate for thrash album of the year 2012. The band delivers the old-school vibe brilliantly, and their compositions are both entertaining and technically proficient...If you are a sucker for old-school thrash metal and appreciate a crystal-clear production (unlike many old thrash released), Vengeance Is My Name is the perfect release for you. Witchtrap does an excellent job in keeping thrash alive while crafting their own sound and delivering an excellent release" - InfernalMasquerade.com [9/10 rating]
"In fact, 'killer blackened thrash 'n' roll' sums this record up entirely adequately in four words, so you might as well stop reading and go listen to it... an instantly loveable combination...Simply, there is nothing more you could ask for here" - MetalReviews.com [8.8/10 rating]
"If you're hankering for the good old days when the 'Big Four' made good music, pick up Vengeance is My Name, put on your denim vest, and headbang your troubles away with Witchtrap" - Scratch the Surface webzine [8/10 rating]
"Witchtrap continues to deliver deadly strikes of METAL!!! Much like their thrash forefathers did, Witchtrap take influences from traditional and speed metal and inject rawness and more speed for a rabid concoction of thrash metal... a forward-looking album that infuses underground black thrash with early NWOBHM and thrash influences and hones them into a lethal arsenal. Witchtrap keeps the flame of true metal burning bright and uses it to ignite a raging inferno of blackened thrash that incinerates the underground" - NocturnalCult.com
"Witchtrap have got the balls to play what they genuinely feel like playing. They may also have hit the right timing, as I was just getting bored-as-fuck with the New Wave Of Norwegian Evil Thrash. All hail to this Medellin lot - I hope they catch that crooked, old witch soon!" - AveNoctum.com
"Witchtrap writes in a pretty spry format with exciting licks caught in a pristine production that allows for the thicker grooves of the bass and the snap of the drum to support the central riffing without ever being eclipsed...not without a few moments of authentic witch-shine that might appeal to fans of similar retro black, speed and thrash acts" - From the Dust Returned webzine
"Oh my god, these guys aren't playing around. Just rip-roaring classic thrash metal the way thrash metal was meant to be played. None of this happy thrash. Just pure razor-sharp riffs that are catchy as fuck, too. The guitar sound on this melts me to the core... easily one of the best releases of 2012, and is classic old-school thrash that will rip and knock your head off" - MetalCoreFanzine.com