Some of the best fucking music out of Denmark since cult Mercyful Fate!! Running wild in nuclear streets over the last 9 years, the band released some underground demos, 7"s and split LPs which now seem like classics from 80-fucking-3. "The Final Assault" is their first studio album, a sure lesson in violence... a heavy fucking bulldozer plowing through the wave of newbie friendly fag thrash. This is Rapid Thrashing Violent Speed Metal Hell with an evil edge that cuts like RAZOR!!!!! Face the music, prepare to die!!!

Song titles for this skullcrusher: Pentagram Warfare, Circle of Annihilation, Pride of the Zombie Squad, No Escape from the Jaws of Hell, Demons in the Night, Beast of Slaughter, Tyrant's Genocide, Running Wild in Nuclear Streets, Raise the Fucking Knife, Flamethrower Madness.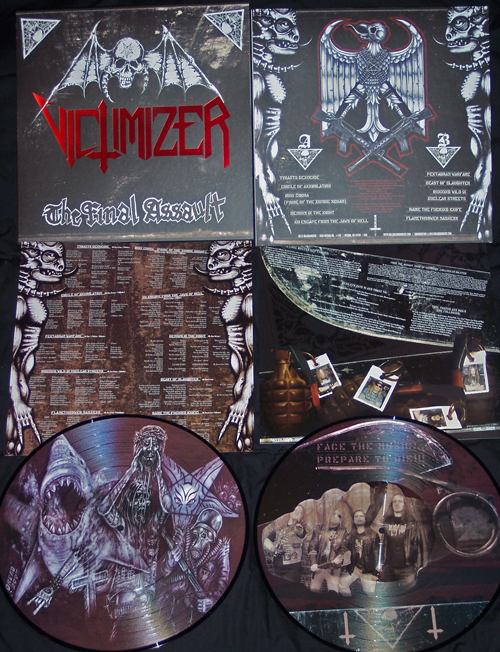 REVIEW TAKEN FROM METALREVIEW.COM:
"Be careful what you wish for"; a statement that should have been tossed around a few years ago when metal fans were clamoring for a thrash metal revival. Now that it"s here and bands are being snatched up by Earache and Century Media only weeks after releasing their first demos and EPs, many thrash fanatics are turning their backs to what they"ve been waiting over a decade for. Why'An overwhelming number of thrash metal albums that are uninspired carbon copies of what came decades before.
Thankfully, Denmark"s Victimizer offer a much more inspired and memorable take on the rather limited genre of thrash metal. Of course, those who have done their homework will take note that Victimizer have been around for a few more years than your Fueled by Fires, Bonded by Bloods, or your Eviles. It was 7 years ago that the band released their first demo, and more demos, EPs, and splits have followed at an almost yearly pace. 2007 sees the end of that cycle as the band have called it quits, but not before unleashing The Final Assault.
Victimizer seems more than happy to ignore most thrash post-1985, though this leaves ample room for influences from Artillery, Exodus, Sodom, Destruction and the like. The emphasis for Victimizer is on simpler thrash numbers with less notes, straight one-two thrash beats, and while the band can, and does, put the pedal to the metal, they don"t overwhelm the listener with ample amounts of speed. While things aren"t as simple and as lacking in variation as Toxic Holocaust I wouldn"t say the bands are entirely dissimilar. The production is actually top notch for a band of Victimizer"s size and the style for which they play, it"s not fuzzy or muddy, and it doesn"t have an insane amount of reverb on the vocals while also missing many of the other quirky production choices many bands of this ilk have come to love.
In songs like the opener, "Tyrants Genocide", Victimizer give a nod to a slightly less extreme style as many of their contemporaries. The guitar riffs bring forth images of pure '80s thrash, when it wasn"t extreme simply for the sake of being extreme. There"s a definite lack of "death" or "black" influence as well, aside from the vocals which are on the slightly more extreme angle, bringing Tom Angelripper to mind. "Beast of Slaughter" is definitely a song that caught my attention and immediately required the repeat button, mostly for its great chorus rhythm and the shouts of "RISE! RISE! RISE! Beast of Slaughter!". With that said, the speeding rager in "Pentagram Warfare" should not be left out. Did I mention Victimizer do better than to have simply noisy, Slayer-esque solos'While Mr. Born To Lose (yes, that"s the name Victimizer"s guitarist goes by) may not be a virtuoso he is able to craft interesting solos that aren"t merely chaos. I also have to question what"s up with the recent interest in Stallone movies for lyrical inspiration. Evile had Rambo and now Victimizer have taken what is arguably the best action film of the 80"s, Cobra, and created a solid thrasher around it, but who can turn down the line, "This is where the law stops and I start, sucker" in "Iron Cobra (Pride of the Zombie Squad)"?
Fun, interesting, and filled with enough vigor to keep one interested for the long haul, The Final Assault is a thrash album worth owning, which is sadly the exception instead of the norm."