OUT NOW ON HELLS HEADBANGERS: CD comes with an 8 page booklet featuring all lyrics. Vinyl LP also in stock (see below).



Welcome to the jungle: the

"D-Beat Street Rock 'n' Rollers"

TIGER JUNKIES are on the prowl, and they're here to fuck you up! Deadly committed to the timeless trinity of booze, sex, and nuclear metalpunk, TIGER JUNKIES are an unholy team-up between Toxic Holocaust mainman Joel Grind and Abigail/Barbatos mainman Yasuyuki Suzuki. To date, the duo have recorded an album entitled

D-Beat Street Rock n Rollers

(from 2008) as well as 2006's debut EP

Sick of Tiger

, and most recently a three-way split with Bludwulf and HELLS HEADBANGERS labelmates CHILDREN OF TECHNOLOGY. Now, HELLS HEADABANGERS collects all these recordings onto one filthy CD & LP, appropriately titled D-Beat Street Sick of Tiger & 3 Way Split! Taking the best, filthiest aspects of Abigail, Toxic Holocaust, and Barbatos and dirtying them up with the metalpunk masters of the past - Warfare, English Dogs, Venom, and Broken Bones among others - TIGER JUNKIES offer you a one-way ticket to the guttter...no escape, no remorse!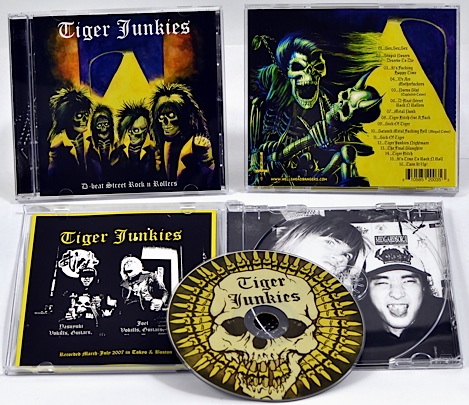 "Suzuki and Grind capture the spirit of metal/punk perfectly and have put together songs that are damn fun to listen to...If you've listened to either TOXIC HOLOCAUST, ABIGAIL, or BARBATOS the overall sound that Tiger Junkies is creating should come across as familiar. But this isn't a bad thing at all, as the instrumentals channel equal parts thrash/speed metal and punk into an intense mix. I haven't heard the original releases these songs came off of, but Metal Archives mentions that Joel Grind remastered these songs for the 2013 release. The recording quality is perfect, as the overall sound balances old-school rawness and just enough studio polish to make the individual riffs easy to make out. D-Beat Street Rock 'n' Rollers is able to capture the spirit of these genres perfectly, and what impressed me the most was that this didn't sound like a simple jam session. Sometimes these types of collaborations end up sounding like they should have been left in the rehearsal room, but the riffs are fairly strong and each of the pieces comes off feeling like a fully realized song rather than unfinished arrangements...will keep you wanting to come back...an album worth checking out. This is stronger than I was expecting for what sounded like an occasional collaboration, and it's the perfect kind of release to throw in your car and piss off the masses with" - Cosmosgaming.com
"For those familiar with the stylistics of the two masterminds behind Tiger Junkies, the material on Tiger Junkies debut probably wouldn't come much as a surprise. Right from the start of the album, the riffs presented by Joel Grind and Yasuyuki are all extremely familiar, with those on songs like 'Stupid Posers Deserve to Die' reminding one of the stylistics of ABIGAIL, while the energetic, D-beat drumming of Joel provides much parallels to TOXIC HOLOCAUST. The punk influences that the band has in their songwriting is also rather obvious, with the raw energy and the included EXPLOITED...Of course, the themes on the album would also hit home with the old-school fans, with topics ranging from the trueness of old-school heavy metal to just plain, good old alcohol and porn that ABIGAIL has come to be known for. Furthermore, the at-times-rather-bad English gives a nice touch to the overall feel of the album, as well, reminding one of the Japanese greats such as ABIGAIL, BARBATOS, and the likes" - HeavyMetalTribune.com
"Punk and metal, metal and punk. While you could argue that they are two vastly different genres, with two distinct set of rules, when you hear an album like D-Beat Street Rock 'n' Rollers, it sure does seem as if their destinies were intertwined from the get-go. It's very likely that they both crawled forth from the same primordial slime given how well they compliment each other. And when it comes to the Tiger Junkies, and this (originally released in 2008) full-length album, that's exactly what you get: punk and metal happily thrashing along together in marital bliss!..Joel Grind remastered this extended version, but in keeping with the overall spirit of crossover albums, the sound still carries an underground vibe. So, have no fear that it's suddenly some crystal-clear modern production. Nope, the production is golden, as it gives this album an almost '80s feel while it's also clear enough that it doesn't sound like some third- or forth-generation tape. You do remember tapes, right? And tape-trading? If so, then this album is custom-fitted to the exact specifications of a time and place when groups like DISCHARGE, WARFARE, D.R.I., AGNOSTIC FRONT, C.O.C, ENGLISH DOGS, CRO-MAGS, VENOM (Welcome To Hell era), TANK, CRYPTIC SLAUGHTER, THE EXPLOITED, and BROKEN BONES were all the rage and punks and metalheads stood side by side. This album is as good as gold for those who remember the roots of crossover, or even those who enjoy their heavy metal punk-flavored. This extended re-release will be in heavy rotation in my small corner of the world, as it's just too good to ignore!" - Heavy Metal Time Machine webzine