LISTEN TO THE ENTIRE ALBUM BELOW!

*OUT NOW ON HHR:


From the throne of USBM royalty emerges THE ROYAL ARCH BLASPHEME, a nexus between elevated-mind primitivism and black-hole oblivion... A full-length offering channeling praises of Luciferian Occultism and outright blasphemy via the vile throat of KRIEG's N. Imperial and PROFANATICA songwriter J. Gelso. Undoubtedly bearing the distinctive stamp of both depraved minds, RAB spews sine waves of volcanic sonic sacrilege, resulting in a seismic gush of gutted doom chunder, squalling feedback and alchemic terror. Cover artwork by Paul Ledney.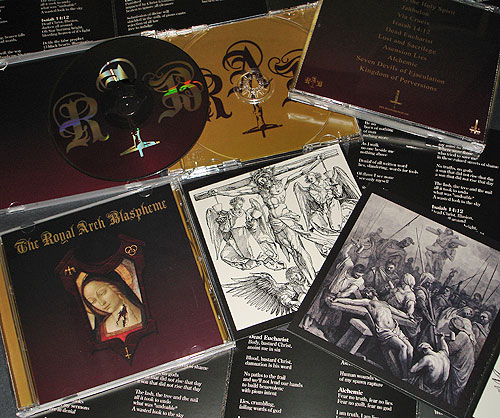 SONG TITLES: Denial of the Holy Spirit, Jahbulon, Via Crucis, Isaiah 14:12, Dead Eucharist, Lust and Sacrilege, Ascension of Lies, Alchemic, Seven Devils of Ejaculation, Kingdom of Perversions
"The Royal Arch Blaspheme is ugly music for ugly times. It is pitted, pockmarked, and gritty black metal, yet black metal in broader, assuredly barbaric terms, meaning that it is not relentlessly blast-beaten, tremolo-picked, or even primitively grooving in an early 90s sense (though "primitive" works in this context). Consider gargling barks and hacked up blackened vocals, a mostly mid to up tempo power-driving bludgeon defined by gnarly riffs, bent and broken leads, and a style of in-the-pocket drumming best described as loud and pounding. Variation is slight without becoming maddeningly repetitive and on occasion the pace is slowed to a grotesque blackened doom crawl, such as heard on "Alchemic" and during the effectively grating down-tempo segments of "Dead Eucharist" and "Seven Devils of Ejaculation." Interestingly enough, the album is obnoxiously in-your-face in the most nerve wracking and unsettling of ways, yet something about it keeps pulling you back. The effect has something to do with the surprising effectiveness of the overdriven harshness and a little more to do with the fact that you're not so much beckoned as taunted into returning for another beating. You just don't know what "hard" means until you've heard this bitch.

-Metal-Army.com
"You couldn't pigeonhole this, that's for sure. There are aspects of primitive black metal, old-school death and doom thrown into the craggy chasm and spewed back up in a plume of gore. It's no easy listen, and the songs have a gnarly one-dimensional pace about them, which, like the drumming, is pretty much determined to beat you into submission. Imperial's vocals are particularly good and sound alien and demonic at times; high in the mix, there is absolutely no way of escaping them"

-MetalteamUK.net
"For the majority of The Royal Arch Blaspheme, a minimalistic forward thrust defines the sound, demonstrating a ritualistic bent...But the crucial factor here is the frequent mind-warping twists which snap out, ensnaring the mind...a straight-ahead snarling momentum regressing to chasmic noise amidst syncopated drum work and cacophonic vocal torment"

-Zero Tolerance
"This band wants to rip through the grain of your subconscious, but not with any sort of mercy; it's intended to be a painful and slow ordeal. The guitar riffs buzz like a serial killer's torture-tool room being started up to prep the tools for your next taste of his sadistic fantasy, the grinders warm up to sharpen the next tool of the trade, the screeching of the blade on the surface as the sparks splatter in all directions as will your blood. This whole album reeks of elements of KRIEG, DEATHSPELL OMEGA, and FUNERAL MIST, in terms of heathenish and bludgeoning aggression. It's a continual Hell-ride of whirlwind percussive artillery and buzzsaw guitar, but not without a taste of HELLHAMMER, DARKTHRONE or VENOM. True palpitations of the heartbeat of Hell are heard throughout this album, and the grueling and maniacal rants of diabolical ideals breathe its soul into it. A true inferno of unholy ritualistic bliss, and a must for the depraved and damned!"

-Metalmaniacs.com
"You can't really go wrong with this record if you enjoy anything else on the entire Hells Headbangers roster. Beyond that, you can't really go wrong with this record if you enjoy anything in the storied past of black or death metal: BATHORY, HELLHAMMER and MAYHEM in addition to the death metal bands I gave an earlier gesture [INCANTATION, early DEATH, AUTOPSY]. The Royal Arch Blaspheme is a celebration of this groundwork, within a dense new fold that bludgeons the ears through churning rhythms and resplendent vocal hostility. Very much worth your time to check out, whether you're a salty old dog branded many times over by the devil's lash or a ripe young imp seeking evil"

-Fromthedustreturned.com
"So what happens when the forces of PROFANATICA and KRIEG come together on a release? What the hell do you think? The war for your very soul's survival has begun...The closest thing this I can even begin to say this sounds like is if you mixed early SATYRICON and added ANCIENT WISDOM and MOTORHEAD in for good measure. There is a sickness to The Royal Arch Blaspheme that you just do not hear in 2010 -it's been missing scene the mid to late' 90s...This sounds like a drug-filled ritual that has gone so very, very wrong...a journey of the deconstruction of one's morals and hope"

-Absolute Zero Media webzine

REVIEW FROM THE METAL REGISTER:
If you take your US black metal seriously, you'll have heard of a little band called Profanatica, along with a group by the name of Krieg. Fans of both outfits have just cause to rejoice _ behold The Royal Arch Blaspheme, a New Jersey-based duo which features the compositional and instrumental talents of Profanatica's J. Gelso as well as the croaking, evil rasp of Krieg's Imperial. If you're a fan of black metal in general, you'll know that the US scene is far from the most diverse, illustrious, or creative one in the world- in fact, sometimes it's downright stagnant. That's precisely why it's such a pleasure to hear two limelight-shy veterans crank out a solid piece of pummeling, doom-obsessed blasphemy that represents a masterful combination of different black metal styles.

First and foremost, this solid debut from these two scene warriors is an excellent union of the driving, primitive nihilism that makes black metal the awesomely misanthropic force that it is and the atmospheric, elite-directed complexity that separates the sex-drugs-n'-Satan garage bands from the more ambitious acts that populate the scene. Indeed, it's difficult to get a handle on just what styles are at play here precisely because The Royal Arch Blaspheme switches things up so much. In this case, that variability is a good thing- there's all kinds of ways to capture violence, despair, and misanthropy through music, and this dynamic duo uses the entire toolshed. The tempos and guitar lines range from a doom-laden lumber ("Via Crucis," "Lust and Sacrilege," "Kingdom of Perversions") to an up-tempo punky style ("Denial of the Holy Spirit," "Isaiah 14:12," "Seven Devils of Ejaculation.") J. Gelso exercises admirable compositional restraint throughout. Each song is comprised of a handful of carefully-considered, adventurous, yet simple riffs and basslines, an interlude or two, and understated, powerful drumming. Also here is a good use of feedback and aleatoric noise elements. The feedback isn't too pervasive _ it's controlled well, so things don't get annoying. I could name more than a few sludge bands who should take a class from these fellas _ feedback is the icing, not the cake, and if you reverse the formula, your cake will suck.

In addition to the superior composition, the production ain't too shabby either. There's certainly a hint of the garage band crackle, and the sound is very wet and cavernous, but the punctuation of the drums and the superb mixing of instruments and vocals shows how this type of music should be heard: deep, overwhelming, monumental, and with no hint of hope or escape in sight. Vocalist Imperial is no less impressive. His distinctive, uniquely creepy gravelly rasp grabs you by the larynx and doesn't let go until the final bellows of "Kingdom of Perversions." There's also a good deal of disjoint vocal double-tracking in the midst of the mayhem, so enjoy the jungle of violence that surrounds you during "Via Crucis," "Denial of the Holy Spirit," "Ascension of Lies," and the album's standout track, "Dead Eucharist."

"Dead Eucharist." Holy Hell, I love this song. A little bit over three minutes long, it encapsulates entirely what this album is about. After a straightforward, hammering intro, things get interesting with a minimalistic modal riff superimposed over a tricky offbeat drum phrase. Imperial shrieks his blackened soul out, there's one or two brief unsettling silences, and then _ just before the 2-minute mark, guitar, bass, and drums come in and straight up kill you with a bludgeoning slow section that'll drag you to Hell if you're not careful. On top of that, Imperial exercises his impressive low range, bearing some resemblance to Deathspell Omega's Mikko Aspa in the process. Excellent stuff all around, and these boys need only three minutes to tear everything up. Other excellent tracks include the snails-pace "Kingdom of Perversions," the quasi-melodic "Lust and Sacrilege," the headbanging "Isaiah 14:12," and the terrifying, majestic "Via Crucis."

So, again, if you're a fan of this type of music, you have no business not checking this out. And even if you're not a huge black metal fan, if you soldier through The Royal Arch Blaspheme's initially inaccessible dark, twisted forest of despair, you'll at least find a high enough level of musicianship, ingenuity, and compositional know-how to lead you to the conclusion that this debut from these patriarchs of the US scene objectively kicks a whole lot of ass.