LISTEN TO THE ENTIRE ALBUM BELOW!
OUT NOW ON Hells Headbangers: Comes with an 8-page booklet featuring all lyrics.

Chicago's original beer metal blazers SUPERCHRIST have come staggering back from the studio with "Holy Shit", a ten-song pack of new rippers that finds the band fully charged and ready for business. Featuring such instant classics as "Run to the Night", "Black Thunder", and "Hot Tonight", "Holy Shit" delivers 100% heavy metal rock and roll for the under-dressed and over-served. Get it on!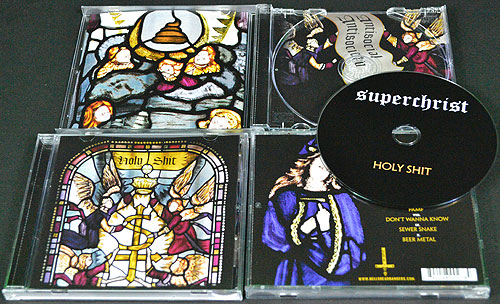 *"Let me just put everything I have to say about this album this: Just start banging your head. Now! Even if you've never heard of these guys. Even if you've never heard a song off this album_If you have any common sense, then you should definitely be keeping an eye out for this one" -Apochs.net
*"You know when you go to a show and you need good driving music there and back? Superchrist are that band. Along with frontman Chris Black's equally awesome HIGH SPIRITS, this is perfect windows-down, heavy-metal-burnout, parking-lot, denim-and-leather motor-metal_one of those records that you listen to over and over and slowly learn all the words without trying and sing to yourself while you're at work. But for what it's worth, this rules and should appeal to any metal fan. Unless you're one of those guys who only listens to slam death metal and hip-hop" -Zero Tolerance
*"Really coming into their own...Not only have Superchrist been decimating eardrums for years, but they've been doing it in a very quiet and DIY fashion. Their impressive back catalog includes five other fairly strong full-length records under their championship beer-belts, and Holy Shit cements a sturdy place for them among some of today's best up-and-coming hard hitting American rock ?n' roll bands...continues on the trail that Superchrist began to blaze way back in the politically turbulent days of 2002. Imagine hearing the best of Bon Scott AC/DC, the worst of Dickenson MAIDEN, and all biker-fueled and studded-leather fury of past bands like AT WAR and NASTY SAVAGE attacking you through your speakers all at once...Bottom line: if you never heard Superchrist before, this album'll teach ya to fuck like a priest, and if you're still not drunk enough, there will be plenty more beer metal where that came from!" -ThrashHead.com [5/5 rating]
*"This is heavy metal that can be traced back to traditional old-school roots like MOTORHEAD and TANK and is mixed with some slices of hardcore that is built around riffing like the classic BEOWULF stuff. Superchrist have the ability to play fast-paced hard rock songs combined with hooks, dynamics, and choruses you simply cannot break away from. Another instant classic has emerged!" -Lordsofmetal.nl [8.9/10 rating]
*"Some of the most instantaneously memorable heavy metal rock 'n' roll you'll hear anywhere...a more polished, hook-oriented take on the biker rock of MOTORHEAD, the same style currently being exploited by labelmates DRUNKEN BASTARDS and SPEEDWOLF, but the emphasis here is on forging singalong metal/rock anthems...Very worth picking up if you like to ride, party, rock out, and sing along" -Shreddnet.com [8.5/10 rating]
*"Old-school heavy metal has been getting lots of love lately with all sorts of bands getting into the sounds of the ?70s and ?80s, and Superchrist is obviously one of the best of the bunch. Unlike a band like CAULDRON who are obviously copping the sound for commercial success, Superchrist do not come off as a gimmick. Instead, they come across as the real deal: Guys who play this style because they love it, not because they want to follow a trend...some damn good stuff" -Scratch the Surface webzine [8/10 rating]
*"An exceptional album on all fronts. You need to check this band out" -AveNoctum.com [8/10 rating]
*"If you like HIGH SPIRITS but always thought they were too clean, then Superchrist has the remedy for that feeling. The catchy, sing-along traditional metal of HIGH SPIRITS has been punked up and roughed up, and what you have is some damn-fine beer metal!" -NocturnalCult.com
*"Don't let the admittedly lighthearted nature of the band fool you into thinking they're mere lazy derivatives, because the Chicago mobsters have great tone and classic songwriting skills that should continue to please their installed fanbase and perhaps even win over the new, young audience into such throwback sounds as those conjured by bands like MIDNIGHT, SPEEDWOLF or ABIGAIL...they bring this tangible virility to the music that comes across entirely genuine, and as the band want nothing more than to have a good time, sharing some music and beers with the audience, I'd say this is working very much as intended" -From the Dust Returned webzine