LISTEN TO THE ENTIRE ALBUM BELOW!
*OUT NOW ON HHR (very low stock):

PROSANCTUS INFERI make their highly anticipated full-length debut with Pandemonic Ululations of Vesperic Palpitation. A bewitching epitaph to fallen warrior / drummer Antichristus, Pandemonic Ululations... retains their blackened barbarity of old but moves away from their earlier Profanatica worship toward a sound that's inscrutably, idiosyncratically unique. Primitive and pounding and yet laced with labyrinthine, serpentine structures that challenge the mind while bruising the body, PROSANCTUS INFERI invoke the occult through utterly twisted, wholly gnarled violence. METAL MANIACS: 9/10 rating!
FOR DIE HARDS OF: early ANGELCORPSE, NECROVORE, RITES OF THY DEGRINGOLADE, BESTIAL WARLUST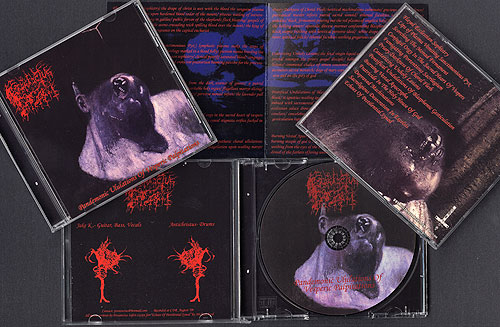 "Pure necrotic fury...this album will slash through your senses and desecrate your insides to mush. Barbarous and crude, this is another piece of audio profanity that reeks of hatred and violence...The tracks on this vulgar concoction of an album are short bursts of insanity and murderous debauchery by way of deafening percussion blasts and guitar riffs so powerful they'd be able to demolish a building by sheer reverberation. This stuff makes your bones ache and your skin go limp as if you were some happy masochist being strapped down and abused...This stinks of blood, sweat, putrid flesh of the weak and trampled, and the fear of those who were and are not quite ready for the sound of death and desecration, the profane and explicit"

-Metal Maniacs (9/10)
"As a blanketing experience in sensory overload and Christ-crush hammering, Pandemonic Ululations of Vesperic Palpitation succeeds, doing so with conviction and offering a proud tribute to late drummer Antichristus. The riffs, rhythms, and nearly inaudible vocals blur into a swarm of killer-bee proportions. The tracks are short, often less than two minutes, the obvious intent one of quick-striking murder and mayhem. For those reasons, it never reaches the Land of Suck and Honey and would work just fine when complete annihilation is necessary and musical fuck-arounds anathema"

- Blabbermouth.net
"This brings me back to my tape-trading days, when most of what you got wasn't all that good, but then you'd drop a demo from some band you'd never heard of before in the tape deck and be surprised all to hell at how good it actually was. This reminds me a lot of those one in 50 or so good band that you'd hear. Raw, dirty and fast is where it is at on this release... If you want your fix of old-school, raw black/death metal, this is where to get it"

-GASPetc.com
"Suiting such lyrical concepts down to the ground (and perhaps even lower), there's a mayhemic convocation to Prosanctus Inferi's take on morbid black metal that's wildly aggressive and utterly chaotic and yet clearly considered"

-Zero Tolerance
"If you were to picture a brutal death metal act, such as Mexico's DISGORGE, and remove all the stereotypical pig squeals while adding a black metal aspect to the riffs as well as a more traditional lower guttural vocal style, then you'd have an idea as to what this release will sound like. Much of the music on this release is excellent and gives off a rather dark and sometimes chaotic sound, almost as if a ritual deep in the woods has gone awry"

-Apochs.net