LISTEN TO THE ENTIRE ALBUM BELOW!
OUT NOW ON HELLS HEADBANGERS: Available on traditional Black Vinyl, Splatter Vinyl and only 111 copies on PICTURE DISC (w/ jacket & poster). Comes in a black poly-lined inner sleeve with a UV spot gloss Gatefold cover and a large A2 poster of the cover artwork in it's entirety.

*Add the "Thy Kingdom Cum" CD to your vinyl order for only $6.66 more
"If it's tried-and-tested raw and primitive black metal that you want, you'd be hard-pushed to find anything to match this" - TheMidlandsRocks.com
Profaners of the pure, defilers of Dog's creation, fornicators upon the altar: PROFANATICA return with their most vile and virulent creation yet, Thy Kingdom Cum. As one of earliest American black metal bands, during the dark 'n' bloody days of the early 1990s, PROFANATICA set out upon a course of utter blasphemy and barbaric primitivism, then retreating into the shadows as a cult icon, only to be resurrected years later once the black metal scene had finally caught up with their invention/degradation. When they returned, with Profanatitas de Domonatia in 2007, the signature PROFANATICA sound was firmly in place, and yet masters Paul Ledney and John Gelso continued to challenge themselves and push this pulsing primitivism to uncharted waters of sin 'n' sickness. Three years later, Disgusting Blasphemies Against God pushed the envelope even further - and yet three more years, and now Thy Kingdom Cum absolutely desecrates that envelope. Tense, veritgo-inducing riffing from Gelso malforms minds while Ledney's charred-black throat vomits forth visions only PROFANATICA can create/desecrate. This is BLACK METAL incarnate, and then black metal DEFIED/DEFILED. Let the juices flow across Thy Kingdom Cum...
1. Ruptureholyhymen, 2. Foul The Air With Blasphemy, 3. Denounce Him, 4. False Doctrine, 5. Definite Atonement, 6. Thy Kingdom Cum, 7. Ropes of Hatred, 8. Water to Blood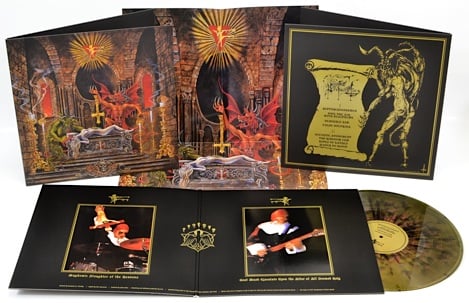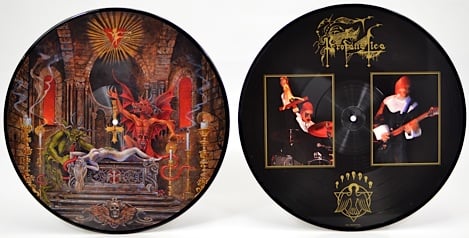 "Now here is some seriously fucked-up shit. I mean that in a good way. Paul and company have come up with some wacked-up shit on this, and I loved every minute of it. The raw production on this is awesome, and the guitar sound is, as well. This is what should be given to you when you enter hell. Paul's vocals are so excellent on this, pure hell and fury. Bands like this destroy the fuckin' fakes and phonies of these so-called 'true' black metal groups. This is the best black metal release of the year, hands down" - Metalcorefanzine.com

"Remember when black metal was so extreme, only very few of us listened to it in the '80s and '90s? Remember when it was those things of nightmares and terror, and you would wait for the mail to come from Osmose, Red Stream or Candlelight for those imports you read about in photocopied zines and did tape trades for? Well, Profanatica is all that and more: full-on wall-of-noise raw black metal not for anyone with any sense of mainstream musical ideals. There is a madness and torment bands like this project that many will never be able to understand or accept...This album is fucking amazing in every way" - Absolute Zero Media webzine

"If you're thinking this is going to be a snowy, corpsepainted journey through some Norwegian blood-soaked basement, I'd say you're only about half-right. This New York band is all about taking things to the next level while still maintaining the pillars of the black metal system of 'beliefs.' Crosses better be upside down, the vocals are abrasive and goblin-esque, and the production needs that extra crunch. Beyond that, Profanatica likes to have a little more fun, American-style. The puns and cheekiness are rampant and the lyrical themes, as well, as the overall aesthetic of their music and performances is turned up to a level of absurdity; their aim is blasphemy both in the traditional sense and even musically. Despite the extreme nature of their sound, they seem to have a healthy attitude towards black metal and use it for its often alienating and raucous qualities. Its influences become a component to the music as they incorporate intricate death metal riffs in their songs as well as grating bridges to create a rather disjointed assemblage of mayhem...Metalheads, beware: Profanatica knows they may not be able to scare your desensitized asses, but they can sure as hell taunt you, and that's pretty much what they do with this album. It's insidious, uncompromising, and slightly self-aware, which I find utterly refreshing in black metal, or any metal for that matter. If you've grown weary of the genre, I'd say this is an illustrious lesson in the world of difference attitude can make" - Voicesfromthedarkside.de

"Yes, it is time for more songs against praise from that diabolic duo Paul Ledney and John Gelso. Innovators within the USBM scene, the group's overtly blasphemous output is equally revered and reviled, and if you have encountered it before and stuck the course, then no doubt you know exactly what to expect. If you have not, well, let's just put it this way: their music is ?extremitus in excelsis,' and it certainly is not for everyone...Strangely enough, I found myself loving this on pretty much the first couple of plays. It strikes me as slightly more approachable than before, but that is not with any less extremity about it. That is there in spades, as are the irreligious themes...It's a cataclysmic deluge of sound and howling, almost white noise as it starts, and many would no doubt turn it off before it coruscates into a foul sermon of scything guitars, battering drums, and blood0gurgling roars. It pretty much continues in this punctured vein over the next 33 minutes without offering a shred of mercy, but how it succeeds is in the way that the melody that seeps through the debauched, bestial, lunging musicianship really has an impulsive groove about it. Heavy as the scorched breath of hell though it is, juddering leaden layers of this grooving tumult flow like an unstoppable field of brimstone spewed out from the gates of hell, and it chases you through the album, leaving you running in a blind panic trying to escape it...If I had one word to describe the album, it would be ?virulent,' and it sums it up perfectly. It seethes, it stalks, and ultimately, it ravages. Tracks merge into each other and do not really need separate dissection...The 34-minute running time is quite enough, any more and I think this would have dropped me over the edge, but as it is, I am happy walking along as close to it as I can get without throwing myself over...Definitely not for sheep!" - AveNoctum.com [8/10 rating]