A couple very last copies left on Black Vinyl. Tan vinyl is sold out! Comes with a cardstock lyrics insert.
"One of the most solid, heavy, legit death metal releases of the year!" -MetalAsFuck.net
Hot on the heels of their Whoresanna EP, Australian hooligans MONGRELS CROSS deliver their highly anticipated debut album, The Sins of Aquarius. Seven anthems of chaotic-yet-poised black/death barbarity, The Sins of Aquarius spans filthy thrashing, downtempo warmarches, and epic metal grandeur alike, with a powerful panache and strong songwriting to the fore. MONGRELS CROSS throw down the gauntlet and spit on all pretenders - behold The Sins of Aquarius! Recommended for diehards of GOSPEL OF THE HORNS, BESTIAL MOCKERY, GRAND BELIAL's KEY, and UNCREATION's DAWN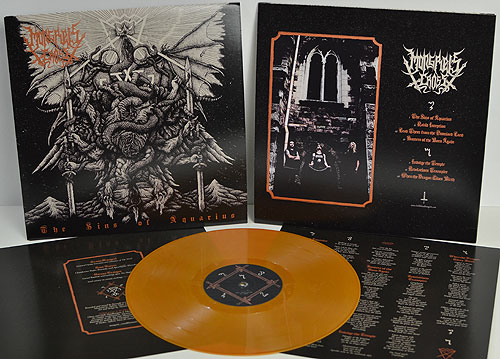 "Probably one of the best debut albums for a new band in my recollection, as just about everything on this record is amazing... it's not just the riffs that make The Sins of Aquarius as brilliant as it is, but also the group's ability to create an atmosphere that is raw and reminiscent of other notable acts of the scene today such as KETZER or NEKROMANTHEON. The main component of Mongrel's Cross' music that separates them from so many other acts today, though, is the terrific songwriting, a quality that a lot of black/thrash bands forsake in order to come across as 'kvlt' and 'evil'...until I get my hands on the new GOSPEL OF THE HORNS release, I'm sure this will definitely be the pride of the black/thrash subgenre in 2012" -Skull Fracturing Metal webzine [4.6/5 rating]
"A lot of the stuff present on their early releases is still there: heavy and evil thrashing riffs, snarling vocals full of attitude, and the punky drumming that drives everything along at just the right pace. The rough and raw feel is still there; it's just slightly buried under a semi-evolved approach, which suits the band surprisingly well. I really wasn_t expecting the sound to change much on the full length, but I_m certainly not disappointed_With releases like The Sins of Aquarius, the new GOSPEL OF THE HORNS EP, and the recently recorded, soon-to-be-released album from HELLBRINGER, who needs fuckin' useless retro-thrash?" -Witching Metal webzine [5/5 rating]
"Australian trio Mongrel's Cross lay down the blackened thrash goods with authority on their debut long-player. The seven songs threaten to test attention spans, with a total running time of 41 minutes, but the glory lies not in individual tunes. The glory lies in every raging, SODOM-on-Bathory Riff, every IOMMI-loving sludge/death march, and all the cackling, Satanic vocals" -Exclaim!
"Sonically tighter than their previous EP, Whoresanna, it's clear Mongrel's Cross have learned to keep the pummel-level high without causing a sonic bangover before you reach album's end" -InvisibleOranges.com
"This is devastating, take-no-prisoners, Oz-style black/death/thrash amalgam that's full-on aggression, pummeling drumming, flesh-tearing vocals, and a constant barrage of riffs, riffs, and even more motherfuckin' riffs that will smash your head in with ease. As viciously sounding as these songs are, this is made even more impressive by the band's ability of managing firm control over the playing and song structures - less BESTIAL WARLUST trademarked chaos and more of an ASSAULTER/RAZOR OF OCCAM malevolently thrashing vibe off this monster_a seven-headed beast of an album, straight from the sulphurous pits , clawing at you with steel talons designed and sharpened by the likes of SODOM, BATHORY, and CELTIC FROST - this one charges forth with megatons of lethal vigor and skill. You'd have to be nuts to miss out on this band" -Dead Void Dreams webzine [8.5/10 rating]
"Continuing the longstanding tradition of Australian savagery once heralded by groups like BESTIAL WARLUST, GOSPEL OF THE HORNS, and DESTR_YER 666, Queensland trio Mongrel's Cross arrive with their first full-length The Sins of Aquarius, an act of barbaric bombast which could not be better suited to the Hells Headbangers Records imprint upon which it resides. I'm not implying that this accounts for any sense of predictability, only that the group resembles others in that particular stable in terms of how they strongly emphasize an old-school sense of aggression that transcends any one genre. You could just as evenly brand The Sins of Aquarius a black, death or thrash metal record: it draws upon all of these influences in a way that recalls the early manifestations of deities like BATHORY or HELLHAMMER, or perhaps the Brazilian forebears, while retaining its own core consistency...The seven tracks all flow accordingly, like a slow and glorious spiral into hell fraught with the illest of intentions, and it benefits immensely from the raw, full production which manages to balance all the instruments into a loud and brute comprehension, whether the band is plowing ahead forcefully or breaking down for a choppier, percussive punk/thrash rhythm_on the whole, this is a solid and angry debut sure to sate advocates of old-school black/thrash or black/death acts of decades past, or fellow Aussie groups like HUNTERS MOON, SHACKLES, and DENOUNCEMENT PYRE" -From the Dust Returned webzine