We received these box sets with mild dents, scrapes, etc. that occurred during shipping.
This is a die-hard 7" box set released by Hell's Headbangers, Weird Truth Productions, Obliteration Records, and Bloodbath Records. Limited to 333 copies on purple vinyl with bonus interview CD. Old left over stock imported from Obliteration Records, Japan - not a repress!
Includes 4 7" EPs with live tracks from different shows on NunSlaughter's Japan tour. Each 7" comes in an expanded deluxe pocket cover filled with photos along with a custom photo card booklet and a large 18" x 24" full color 2-sided mosaic poster all packed into a box with metallic foil stamp sealed with an Obi Strip.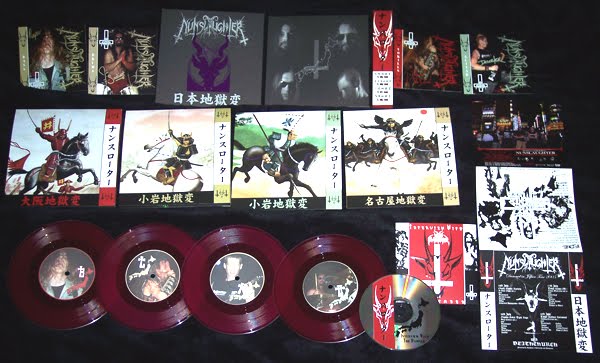 Nagoya:
1. Death By the Dead
2. She Lives By Night
3. Ouija
4. Cryptic Aeon

Osaka:
1. Obsessed with the Visions of a Satanic Priest
2. Midnight Mass
3. Satanic Slut
4. It Is I
5. Burning Away
6. Mother, Cunt, Whore

Koiwa:
1. In the Graveyard
2. Killed by the Cross
3. Raid the Convent
4. Mother, Cunt, Whore

Asakusa:
1. Fire
2. Emperor In Hell
3. Phantom
4. Power of Darkness
5. I Am Death