*2xLP
*Gatefold jacket
*12 x 24 one-sided Decade of Decay Poster
*12 x 24 two-sided, full color gatefold insert featuring album liner notes, collage poster created by Wagner Antichrist, and old photos from the band's various stages.

Available for the first time ever on vinyl, this double LP album features songs from the following Sarcofago albums: INRI, Rotting, The Laws of Scourge, and Hate. Also features songs from the following demos: Satanic Lust, The Black Vomit, and Christ's Death. Reissue and remastering process overseen by Wagner "Antichrist" Lamounier. Originally released in 1996.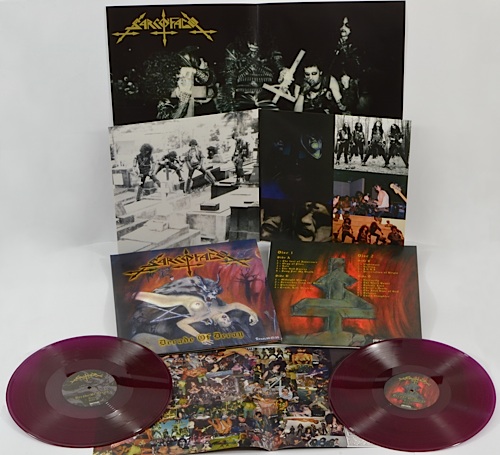 TRACK LIST:

Decade of Decay Track Listing:
1. The Lost Of Innocence
2. Orgy Of Flies
3. Hate
4. The God's Faeces
5. Song For My Death
6. Midnight Queen
7. Screeches From The Silence
8. Piercings
9. Crush, Kill, Destroy
10. Nightmare
11. Rotting
12. I.N.R.I.
13. Desecration Of Virgin
14. Recrucify
15. The Black Vomit
16. Satanic Lust
17. Christ's Death
18. The Anal Rape of God
19. Satanas
20. Third Slaughter