LISTEN TO THE ENTIRE ALBUM BELOW!
BACK IN STOCK! Limited edition deluxe custom diecut trifold packaging with silver foil and parchment pages. T-Shirts also in stock!

METAL MANIACS: 9/10 rating!
"Cuts a long and twisted slash through the paper-skinned pretenders to the throne... not an album to miss out on!"-Forbidden Magazine
ESSENTIAL cult Satanic masterpiece from the second wave of 90's Black Metal. Unlike many imposters from the same era, Inquisition is the true embodiment of Satan with a unique and characteristic style of Black Metal crafted over the past 20 years. Into the Infernal... now boasts a much better sounds quality (mastered for the very first time), and all new cover artwork painted by Antichrist Kramer. Hear a true black metal classic again, or for the first time. You will submit to this minimal-is-maximal monolith...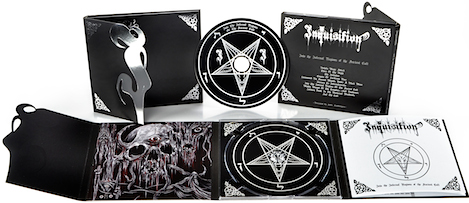 "How do you re-master something that is so unique, without removing some of those primal layers that go so far to make up the sound of Inquisition? Well, delicately, it would seem: carefully ensuring that, when removing a layer of dirt, it reveals something hidden, something buried, thus breathing life anew into the beast...The subtleties once hidden are now revealed, exposing a new dimension to this classic album. For those of you that know and relish these pariahs of utter darkness, then this is essential. For those looking for one of the landmarks of South American darkness, then look no further"

- Zero Tolerance [5/6 rating]
"Inquisition is not your typical black metal group, by any means. The sheer power of their classic

Into the Infernal Regions of the Ancient Cult

is a pillar of dark stone against a stormy and lightning struck sky for the black metal genre. Originally released after the second wave of black metal, in 1998, when the genre was starting to bloat with corpse-painted copycats, Infernal Regions cut a long and twisted slash through the paper-skinned pretenders to the throne... not an album to miss out on"

- Forbidden Magazine
"As the minutes pass, the chanting quality of the vocals borders on the hypnotic, and it soon becomes glaringly evident that the vocals are one of the album's most endearing qualities...Composition is what Into the Infernal Regions of the Ancient Cult is all about, though. It is an expert blend of traditional black metal that emphasizes muscular riffing over minor-note BM harmonizing and comes with truckloads of groove and occasional blackened doom, melodic segments, and subtle atmospherics that never rise to the level of esoteric shoegaze. In other words, it is so well composed that just over an hour's worth of it is captivating for the duration...a great black metal album, plain and simple"

- Blabbermouth.net [9/10 rating]
"Into The Infernal Regions Of The Ancient Cult

, and Inquisition in general, is one the undergrounds landmarks when it comes to black metal. It derives much of its fame from the spectacular vocal performance, which is both highly revered and crudely mocked in the scene. Focusing on reception only, Dagon's performance is somewhat comparable to Attila's performance on [MAYHEM's] De Mysteriis Dom Sathanas. Both performances are unique, perhaps one-of-a-kind, and the reason why both albums are pure love-it-or-hate-it albums. In terms of actual sound, Dagon has been described as a croaking frog and quite frankly, it's true. He sounds ridiculous, but somehow, also ridiculously awesome. You can accuse me of slapping the 'evil' tag on anything that's different, but I actually really feel the strange, strange vocals give the music a cool and dark vibe...In short: Into The Infernal Regions Of The Ancient Cult is everything a black metal fan could possibly desire. It's dark, it's blasphemous, it's obscure and it delivers some serious kickass riffs"

- Metalstorm.net [8.7/10 rating]
"Inquisition is one of these top-notch cult bands, and no matter what review you look up about this release,

Into the Infernal Regions of the Ancient Cult,

it's nothing but praise for this act"

- Apochs.net
"Basically, this album takes the droning, melodical meandering of BURZUM's early material and melds it with a few fast-paced and mid-tempo sections, reminiscent of DEATHSPELL OMEGA's Inquisitors Of Satan...this album is a must-hear for fans of black metal, and makes for a damn good soundtrack to depression. Recommended"

- Halifax Collect webzine