LISTEN TO THE ENTIRE ALBUM BELOW!
4 VERY LAST COPIES FOUND OF THIS OLD HHR RELEASE!
The second full-length album is now complete! Deemed to be the grand master of unholy darkness and black perversion, "Kembatinan Premaster" destroys all past work & is the definite Havohej ritual to be observed by ALL devotees of the genre. Easily the ultimate contender on the bestial black throne of metal to deliver such complete utter fucking darkness so very few can capture. "Kembatinan Premaster" is a single meditation consisting of 8 parts in 37 minutes of total fucking blackness with acclaimed black vocal vomits and signature style profanatic percussion. This is the continuation of the now classic Ledney atrocities committed in 1993 and yet again breaking major ground 16 years later.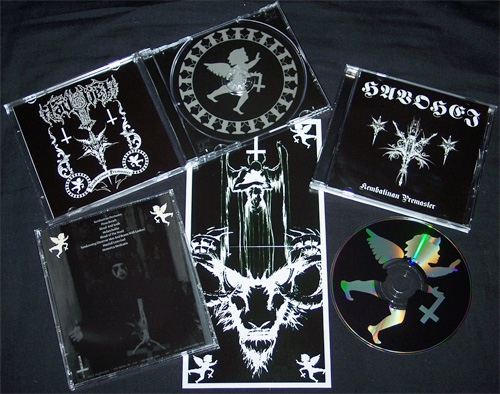 Excerpt from SONIC FRONTIERS:
"Anyone expecting Profanatica part 2 is largely advised to take a hike. While both bands may wallow in black metal's filth-ridden underbelly, Havohej is an even more abstract and perverse descent into the genre's outer limits. Tracks such as "Bloud and Souls" and "Sundowning (Destroie Men and Beasts with Lookes)" would probably come off as standard black metal fare, were they not awash in layers of burbling distortion and noises that sound like they're being transmitted from the depths of a black hole. "Melancholike" is a ten minute decrepit epic of slow, creeping doom and static glitchiness, creating an effect that is both hypnotic and unsettling. "Homerica Medicatio" as well as parts of "Bloud of the Word" are pure ambient soundscapes that come off like a lo-fi version of Lustmord. Ledney leaves no stone unturned in his attempts stretch the boundaries of black metal into new territories of cacophony, and this is what makes Kembatinan Premaster so oddly compelling.
With the progressive, quasi-psychedelic turn American black metal has started to take in recent years, it's great to see folks like Ledney pushing things even further out there with a take on BM that is far more heavily indebted to early Merzbow than it is to Norway circa 1994 or Pink Floyd. While so many others talk about evil and ritualism, Havohej has actually created something that sounds truly aberrant and unnatural."{read more...}