Print Location: Front, Back
Shirt Brand: Gildan - Ultra Cotton - 2000
6.0 oz., 100% cotton pre-shrunk jersey knit
Tear away tag
Quarter-turned to eliminate center crease
Double-needle sleeve and bottom hems
Seamless double-needle 7/8" collar, taped neck and shoulders
*SPECIAL OFFER: add the EMBALMED "Exalt the Imperial Beast" CD to your shirt order for only $5 more.
LISTEN TO THE ENTIRE ALBUM BELOW!
Official EMBALMED shirts in support of their devastating 2011 full-length, "Exalt The Imperial Beast". Features large artwork on the front & back. All sizes available!
Printed with water-based inks resulting in a soft-to-the-hand feel without sacrificing the fine details of the artwork. The print is almost as soft as the garment itself. Washing is recommended before wearing due to the ink chemical treatment.
---------------------------------------
OUT NOW ON Hells Headbangers: 6-panel foldout booklet with metallic silver ink archives all lyrics, art & band photo. Killer cover artwork by Antichrist Kramer.
After 17 years of strategically scattered EPs & demos, EMBALMED finally mark their triumphant return with their very first full-length album. Hailing from the darkest abyss of Mexico, EMBALMED leave nothing to subtlety when it comes to their raison d'etre - "Exalt the Imperial Beast"! A ceaselessly violent, gnawing torrent of black/death barbarity and sulfurous ritualism that is equally atrocious and dark but'still retains a certain Death Metal character in the songwriting. A cult name that lurked in the shadows for far too long, EMBALMED surpass 95% of what is being offered in the current "black/death" scene - worship or die!
Recommended for diehards of BESTIAL WARLUST, early MYSTIFIER, classic TEITANBLOOD, IMPURITY, and NYOGTHAEBLISZ.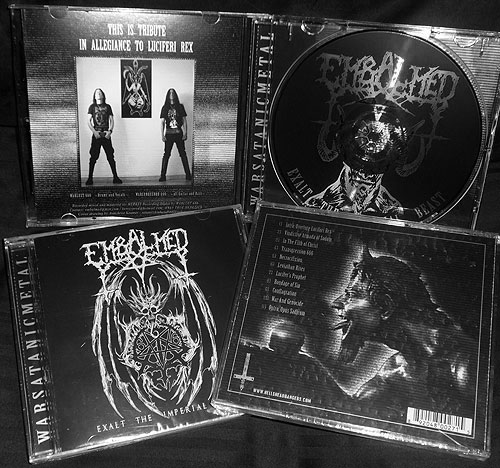 *"Amazing... sickening, filthy, raw black metal at its finest" -AmericanAftermath.net
*"These Mexicans perform one of the most crude, disgusting and barbaric approximations of black metal I've heard in about 20 years with the second wave of the genre. Curiously enough, they've been around all that time...we've just never really heard much out of them save for a handful of demos and EPs. With that much history beneath their belts, and not much to show for it, you might understand how a band can be so fucking pissed off as to create a godhating claptrap such as this...but that'sTILL won't prepare you for Embalmed... This is fucking insane. Simple... an album that makes ANGELCORPSE, IMPIETY and GORGOROTH's Destroyer sound like nursery rhymes" -From the Dust Returned webzine
*"Crafted in the vein of IMPIETY and BESTIAL WARLUST, this album from start to finish takes no prisoners. Melody and harmony are ignored, perhaps even mocked, as this duo focuses only on the brash and the harsh... To say this thing is old school would be accurate, given the foundations of the band. However, Embalmed cultivate the modern also, although they are not concerned with evoking subtle atmosphere or even darkened sensibilities. No, Embalmed's interests lie in the crafting of hate and violence, and in this they succeed" -Examiner.com
*"A gem, if you will, from and for the deepest dungeons of the underworld. The Venegas brothers have truly returned and certainly lost none of the total bestiality of their art. It's barbaric and atrocious death metal, lusting for blood!...Death to the doubters and hail to the amassing hordes! Relax (but only for a split'second) and behold the merging of BESTIAL WARLUST/Ross Bay brutality with the complete evilness of MYSTIFIER! Behold, and beware, or you will not'survive this relentless intensity of Embalmed. If in doubt, retreat! Run away!" -MetalTeamUK.net
*"Scorched to the bone is the death/black metal by these Mexicans. The first thing that'sprung to mind is very early TEITANBLOOD and some BESTIAL WARLUST. Chaotic at first hearing, but after several spins, a certain line can be discerned. Are you looking for a clear and full production? Then see to it you get away from it all as soon as possible, because this is no listening matter for softies... Rotting, barbaric, violent, sulfurous, and more evil than most black metal bands. Satan listens to this with trembling knees because he knows he is charity personified compared to what Embalmed unleashes unto humanity with Exalt The Imperial Beast" -Lordsofmetal.nl
*"Those looking for even an inch of compromises in their blend of black and death metal, turn away right now... nothing but chaotic, incoherent, violent, fast, murky, grindy, underground black / death metal. You could think of the half-improvised first albums by KRIEG but with more death metal therein, and you've got this album... worth looking into if you care more about devilish atmospheres rather than compositional qualities. I know there are fans of this barbaric style out there" -Vehement Conjuration webzine