LISTEN TO THE ENTIRE ALBUM BELOW!
*OUT NOW ON HHR:

METAL MANIACS: 10/10 rating! Baptized in speed and blood, the toxic oil of the 1980's is pumping in the veins of DRUNKEN BASTARDS! With their second album Horns of the Wasted, these hungover Hungarian's blitz the senses with galloping hardcore punk and evil blackthrashing metal, taking all the vilest aspects of the '80s underground and warping 'em into diabolical anthems. Too metal for punk and too punk for metal, DRUNKEN BASTARDS are posercrushing road warriors existing in a no-man's land... and they don't give a fuck as long as they're on the Horns of the Wasted! Expect NO sweetie melodies and NO gushy lyrics, just pure metal exekution straight from fuckin' hell.
FOR DIE HARDS OF: Barbatos, Venom, Driller Killer, old Sodom, Broken Bones, Abigail, and early Kreator.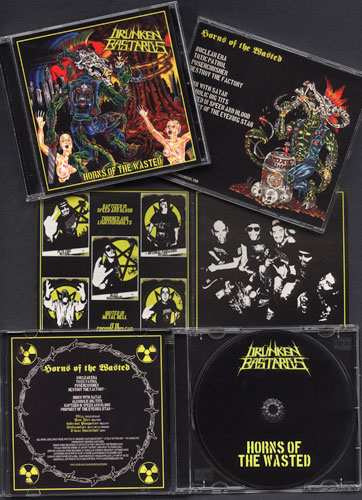 "Will strengthen their position within the punk/thrash scene...In the vein of the debut, this recording combines extreme thrash metal with a blackened edge, and pounding hardcore/punk with a spikes & leather attitude. The short guitar-driven assaults come with a demonic and fucked-up approach, leaving no room for sweet emotions or poppy melodies, yet instead these eight catchy and energetic sonic beauties stand for uncompromising purity. Besides, the whole sounds wonderfully toxic and poisonous, and even though the Eighties seem to revive lately, Drunken Bastards ARE Eighties' filthiness"

-Concreteweb.be [8.7/10 rating]
"Old-school thrash metal, alcohol, and Satan. What the hell more could you possibly ask for in an album?...If you've never heard of this band before, then get ready to go into Metal overdrive, as every song on here is absolutely intense old-school alcohol- drinkin-fun thrash with Satan the way it's always meant to be played"

-Apochs.net
"Drunken Bastards have just showed up to the party and, brother, they brought booze. Also, they love Satan...a drunken blur of extremely punk-infused thrash that's raw enough to lean a tad towards the blackthrash genre while having far more in common with the crossover bands of the mid 1980s than, say, BESTIAL MOCKERY and GOSPEL OF THE HORNS...vocalist Blizzard's snarl bears a great deal more than a passing resemblance to AGNOSTIC FRONT's Roger Miret, so if you're one of those poor, misguided metalheads who think it makes any sense at all to love thrash but hate punk, you're not going to dig this, and you're not very bright. It's a fun record...see if you can drink an entire six-pack of Pabst before it's finished"

-MetalPsalter.com
"A perfect throwback to the semi-serious days of crossover thrash and the beginnings of crust...Songs are catchy, short, and well played with good musicianship, and the humor flies at you fast and furious. Before you know it, it's all over and you find yourself reaching for the 'Repeat' button. You'll find yourself doing that quite often, as this hilarious EP is definitely recommended"

-Live4Metal.org