LISTEN TO THE ENTIRE ALBUM BELOW!
VERY LAST COPIES OF THIS OLD HELLS HEADBANGERS RELEASE.
*CD*: printed on black paper with metallic foil stamping.
Raging for well over a decade in the isolated land of Australia, Destruktor have stood the test of time with a few EPs and a demo under their bullet belts. Now after much anticipation the war beast strikes again with their debut full-length album entitled "Nailed" featuring 10 new tracks of the highest degree accompanied by blasphemous Riddick illustrations. Harnessing the essential elements of fore founding extreme metal troops, Destruktor deliver a dark brutal desecration of exceptional warring bestial black metal of death that easily rivals those in the same battlefield. Destruktor will win the war... with or without your support!!!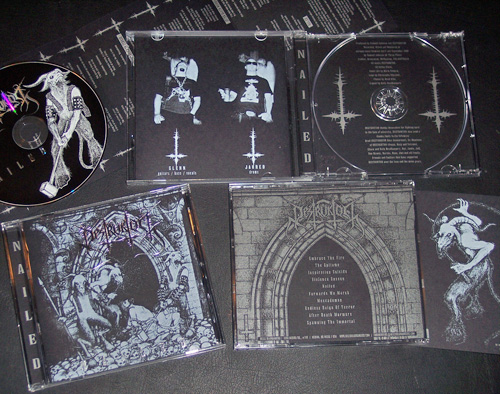 *"A whirlwind abyss of harnessed chaos...a particularly immortal take on blackened deathly thrash _ humungous and hulking, vicious and punishing. Instruments are attacked with a raw clashing hatred that drives the notes beyond riffs, crafting barbed weapons of aural destruction in a baleful cross-pollination of howling primal blackness and brutal slaying death" -Zero Tolerance
*"This outfit tears their way through Nailed, sending fountains of blood and inverted crosses flying in every direction. An unholy blend of black metal, thrash and death metal combine in a churning, soul-corroding mass of destruction... For as brutally dark and barebones as the sound of the album may seem, however, there_s a great deal of complexity going on within its swirling guitars and rabid drum work" -Metalmaniacs.com
*"Brittle and grim with a relentless warlike pace, the 10 tracks and 45 minutes that comprise the aptly titled Nailed is a perfect blend of raucous blackened thrash (NIFELHEIM, DESTROYER 666 etc) and the Ibex Moon Records roster...Destruktor shows there is little else to do in Australia than drink, fight, fuck and make nasty death metal" -Metalreview.com
*"Fast and unforgiving, all 10 tracks on here are full-on, in-your-face anthems of bullet belts and blasphemy... Do yourself a favor and get this disc - it will satisfy your need for old-school death/thrash quite nicely" -GaspETC.com [A- rating]
*"Utilizing a thick, guitar-driven production, Nailed is simply one blast after another mixed in quite well with a few mid-paced moments that flatten the listener...If you have any interest in blackened death metal with power and ferocity, Nailed is right up your alley, as it is mine" -Metal Flows in My Veins webzine
*"Heads-down, gargling-vox black metal...Guess you can judge this _book_ by its cover!" -Metalasylum.net
TEETH OF THE DIVINE REVIEW:
"Man, I'm still sweating and I've not done anything but sit on my ass and allow the deafening tones of Destruktor's "Nailed" to wash over me... like a layer of soot. The Australian firebrands don't care much about easing into anything; it's about assuming the position - head down, fingers positioned on the frets, drum sticks in the air, and amps cranked to 10 - and fucking going for it! Anything else is left to the pansies and pretenders.
What we have here is not a failure to communicate. Rather Nailed kicks the groan and punches the throat with a style that marries old school death (think Drawn and Quartered, Necrovation, etc) to blasting - and sometimes thrashing - black metal. The bellowing growls, the grainy images of bullet-belted men in an Olympic synchronized haircopter competition, and the suffocating denseness is genuine. It is the stuff of mass genuflection at the feet of the ancient Death Metal gods.
Much of Nailed is straight forward blasting intensity, but it is not without compositional refinement, that is, once the dizziness from the initial body blows begins to subside. You'll hear more variety during the second half in particular with songs like "After Death Murmurs" that lean toward blackened thrash and the rather epic (in a hate fueled shitstorm kind of way) album capper "Spawning the Immortal," complete with naked, nefarious bass lines and effective pace changes. What can I say? Australian metal extremism and Hells Headbangers; two peas in a motherfucking pod. I'm sure a goat was involved at some point as well." - Written by Scott Alisoglu