ONLY 1 COPY LEFT! All copies pressed on 2-sided RED/BLACK Vinyl in Gatefold cover with UV spot gloss. CD version also in stock.
The long awaited full-length album from the mighty ARPHAXAT now awaits! Truly Necro & Morbid Blasphemous hymns, NOT for open-minded idiots who have no idea what true primitive Black Metal is about! Consists of Shaxul (ex-HIRILORN, ex-founding DEATHSPELL OMEGA member, SABBAT (Jpn) session member, etc). and DRAKEN (ex-Putrefactor). "Loudun la Maudite" forges even more holocaustic obscurity inspired by their majestic and mysterious myths of Pictavia. Those possessed by their 2003 demo tape easily know what to expect from this obscure album.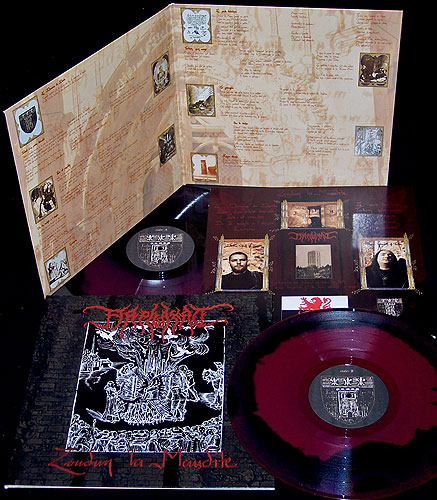 Review from Nathan T. Birk of METAL MANIACS/ZERO TOLERANCE:
If you ask me (and you didn't), the first era of Deathspell Omega beats the newer, second era everyone's seemingly so enamored with, hands down. Dunno specifically, but there was simply an intangible something - filth meets mysticism, maybe? - that made the once-shadowy band stand head 'n' shoulders above most other early Noughties black metal. Now, the secret's out and the "message" seems more profound, but it's also a lot more complicated/convoluted, and I just don't got the time to figure it out. (And I could name the reasons why Fas - Ite, Maledicti, in Ignem Aeternum won this mag's writers poll last year, but it'd make me appear more of an asshole than I already am.) Give me back the days when everyone hated BM.
Which is all to say it's quite interesting to see/hear former DsO co-founder Shaxul back in action with Arphaxat. Loudun la Maudite is the French duo's debut album, and it features no guitar whatsoever. In other words, this is all drums and bass (but not drum 'n' bass, mind). And surprisingly, it's not the downtuned dirge-fest - or Beherit buried in mud, whichever - I was expecting. Instead, Shaxul and vocalist Draken erect coursing, cruising waves of total dinge, the former favoring the high strings and then running that shit through a broken distortion pedal, in effect giving proceedings a classic crust sound: more Prophecy of Doom than Fallen Angel of Doom, if you will. Despite the abundance of hooks - and a handful of 'em mightily reminiscent of the Infernal Battles era, too - much of the record begins to blur into itself, but for sodden, sooty atmosphere alone, you can't do much better these days. Let the hate begin again.