NEW WEBSTORE LAUNCHED!
"Welcome to the new Speed Clothes webshop! After 3-years of running the old Speed Clothes store on my own in Canada,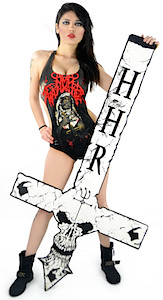 I've now moved all of my inventory to my friends at Hells Headbangers in the U.S. who will handle all order fulfillment and customer service from 2015 onward! U.S. customers can now take advantage of their cheap and

speedy

(har har) domestic shipping rates while international customers can benefit from their low-priced DHL shipping service! ...

And of course

, you can add to your package anything else from their mega specialty catalog of vinyl, CDs, shirts, patches, etc!

Now that I have more time to focus on designing and sewing I plan to roll-out more official leggings, spandex tank tops (unisex), panties and of course swimsuits from some rad bands like Sodom, Onslaught, Razor, Blood Feast, NunSlaughter, Desaster, Sabbat, Metalucifer, Rigor Mortis, Minotaur, Acid, Warrant, Asphyx, Destructor, Hail of Bullets, Enforcer, Stallion, Pile Driver, my all-time favorite band, Demona & much much more!

Be sure to follow my new Instagram account [here], where I'll post coupons, upcoming project news, pre-production photos and have occasional contests.
If you have a custom job in mind, lets talk! Thanks to everyone who has supported my work thus far and remember, to be a femetalhead it doesn't mean to

not

be sexy!"

-Hugs, Tanza
---
20% WINTER SALE - ONLY 1 OF EACH LEFT...
---




SADISTIC INTENT


WHIPSTRIKER


PROTECTOR